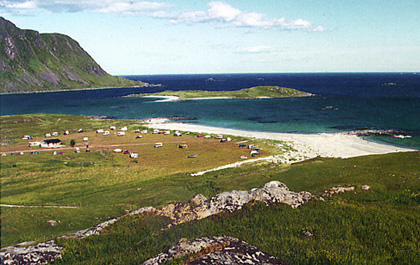 Open may 20th - august 31st
About us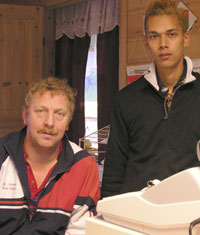 Since Fredvang strand- og skjærgårdscamping opened their gates in July 1990, tens of thousands of caravans have rolled through them. The camping site is the largest one in the municipailty of Flakstad, with room for 150 units. Owners and managers have always been Per K. Johansen and his son Bjørn Erik. And the site boasts, as stated on their advertisement poster, an "idyllic location towards the midnight sun".
Through the years the site has expanded bit by bit. There are now about 50 electrical power outlets for caravans and motor homes, and the site hosts the only lavatory drainage facility for motor homes in Flakstad. By the beach you will find a large floating stage with several boats for hire, with or without outboard motors. The reception houses a kiosk and café with satellite TV and panoramic view of the camping site and the evening sky. In the service building you will find toilets, shower and laundry facilities.
And of course more pairs of hands are needed to run the site properly. Bjørn Erik (left) employs his wife Zorisha as well as his sons Svein Richard (right) and Yngve throughout the hectic summer season. Bjør Erik is thinking about upgrading the site; expand the service building and perhaps put asphalt on the road leading up to the site and the space outside the service building. He might also build some cabins in the future.
Today 6
Yesterday 39
Week 45
Month 837
All 28940
Currently are one guest and no members online